Large Area Sofa Fabric Laser Cutting Machine
As the leader of laser solution for flexible fabrics, GOLDEN LASER developed Co2 flatbed laser cutting machine which Integrated laser cutting, precision unwinding and rewinding, auto marker making, continuous cutting overlong material, auto-recognition, marking and order management.
GOLDEN LASER four series of flatbed laser cutting machine for fabrics
(1) Synchronous Belt Series: Synchronous belt transmission with accurate transmission. Stable performance, high efficiency, lubrication-free and easy maintenance. Compared with other laser cutting machines, it has lower cost.
(2) Galvanometer Series: High speed Galvo scanner. Processing speed can reach up to 8000mm/s. Especially suitable for high speed cutting and engraving.
(3) Galvanometer with X, Y Axis Series: Combining X, Y laser head cutting and Galvo head engraving. No need re-locating. High precision, high efficiency and more convenient.
(4) Double Y-axis Series: with flying route and double Y-axis structure (principal axis and auxiliary axis). The double Y-axis share the weight of gantry and can achieve large format high speed cutting (1200mm/s).
Fabric Laser Cutting Advantages

1) No burr/fraying with laser cutting
Laser cutting is high temperature process. It makes fabric edge seal automatically
No need to recut the patterns after one-time cutting
2) No distortion to the processed fabric
In the process of cutting, laser dose not touch the processed fabric, but laser beam works on the fabric
3) High precision
Diameter of the laser beam can be focalized into 0.1mm
(top brand lens imported from world famous company II-VI-INFRARED)
Cutting is done exactly according to uploaded graphics through computer control
4) High efficiency and easy operation
Just upload the graphics into the cutting machine and laser will cut fabric into shapes as designed
Machine Features
• Conveyor belt with negative pressure adsorption function ensures smooth fabric when laser cutting.
Laser cutting bed with wide format. Working area reaches 2500mm×3000mm
• Open-type design for simple, convenient and visual operation, long focus to meet the needs of thick materials cutting.
• This laser cutting system can do extra long nesting and full format continuous auto-feeding cutting on a single pattern that exceeds the cutting area of the system.
• Following top exhausting suction system to synchronize laser head and exhaust system. Good suction effects, saving energy.
• Optional large-format recognition systems and projection systems, a variety of personalized fabrics can be smart and precise cut.
• Using automatic nesting software, maximize material utilization and cost saving.
Large Area Sofa Fabric Laser Cutting Machine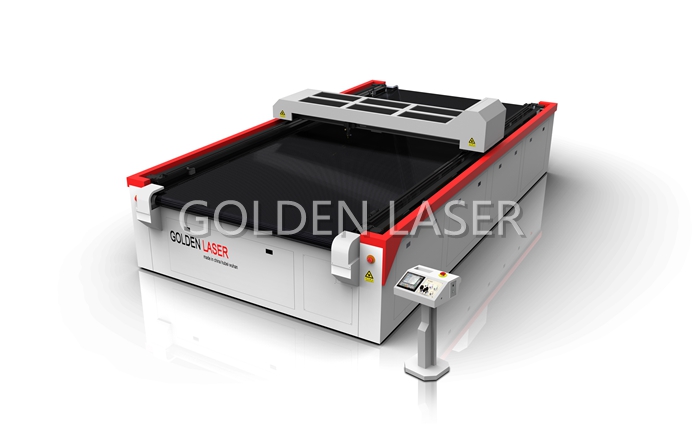 Auto Feeder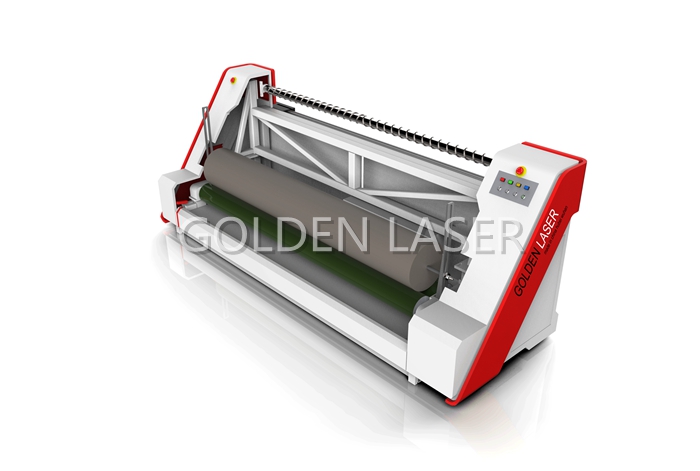 The Processing of Laser Cutting and After Cutting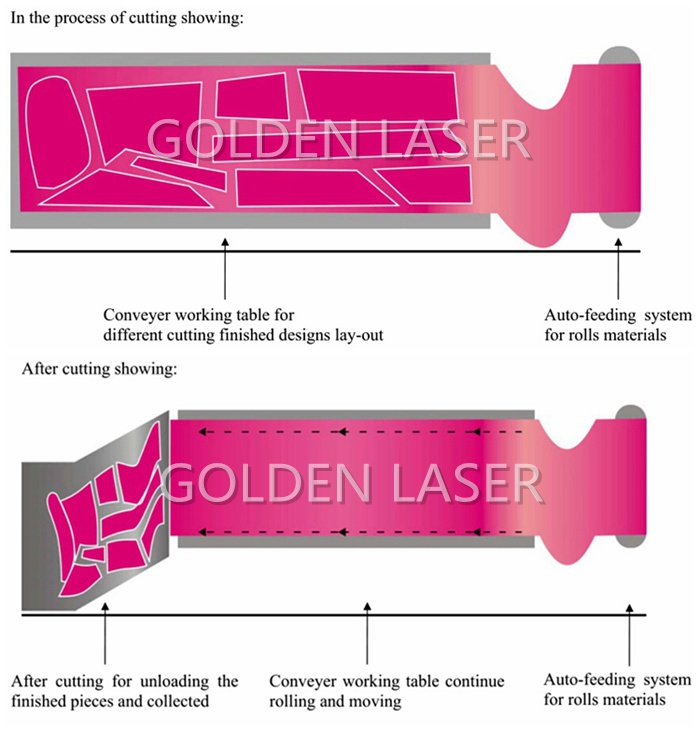 Applicable Materials and Industries
Suitable for cutting a variety of textile and industrial fabrics.
1. Industrial fabric: filter cloth, bolting cloth, filter fabric, nonwoven, glass fiber, synthetic fibre, fabric ducting, polypropylene (PP), polyethylene (PE), polyester (PES), polyamide (PA), cement packing, geotextile, coated fabric, PVC fabic, sponge, insulating material, etc.
2. Nonwoven for health & medical: insulating material, glass fibre, polyester fibre, Microfiber, Cleanroom Wiper, Glasses cloth, Micro-fiber Wiper, non-dust cloth, clean wiper, paper diaper, etc.
3. Furnishing fabrics: sofa fabric, curtain, upholster, carpet, mat, floor rug, mattress, doormat, valance, wall paper, tablecloth, bed sheet, bedspread, counterpane, dust cover, etc.
4. Garment fabrics: sportswear, swimwear, diving suit, exposure suit, liner, lining, adhesive interlining, wadding piece, case-hardened cotton, synthetic leather, genuine leather, etc.
5. Automotive interiors: car seat cover, car cushion, car mat, car carpet, car rug, pillowcase, air bag, auto dustproof cover, seat belt (safety belt), etc.
6. Outdoor products: polyester, nylon, PE/PVC/TPU/EVA/Oxford fabric, Oxford polyester, PVC coated fabric, PTFE, ETFE, Tarpaulin, canvas, PVC tarpaulin, PE tarpaulins, Sail cloth, Inflatable toys, Inflatable castle, Inflatable boats, surf kites, tent, fire balloon, parachute, paraglider, parasail, rubber dinghy, canopy, awning, etc.
Laser Cutting Machine Main Technical Parameters
Model NO.

CJG-160250LD

CJG-160300LD

CJG-210300LD

CJG-250300LD

Working area

1600mm×2500mm

1600mm×3000mm

2100mm×3000mm

2500mm×3000mm

Laser Power

CO2 DC Glass Laser Tube 80 Watts / 130 Watts

CO2 RF Metal Laser Tube 150 Watts / 275 Watts

Working Table

Vacuum conveyor working table

Repeating Location Accuracy

±0.1mm

Cutting Speed

0-36000mm/min

Motion system

Offline Servo motion control system, 5 inches LCD display

Cooling System

Constant temperature water chiller

Power Supply

AC 220V±5% /50Hz

Format Support

AI, BMP, PLT, DXF, DWG, etc.

Standard Collocation

550W upper exhaust fans, 3000W nether exhaust fans, Mini air compressor

Optional Collocation

Auto-feeding system, Auto-recognition system, Auto nesting software, Marking system, Double laser head

Working area and laser power can be customized as your requirement.
Laser Cutter Fabric Sample Pictures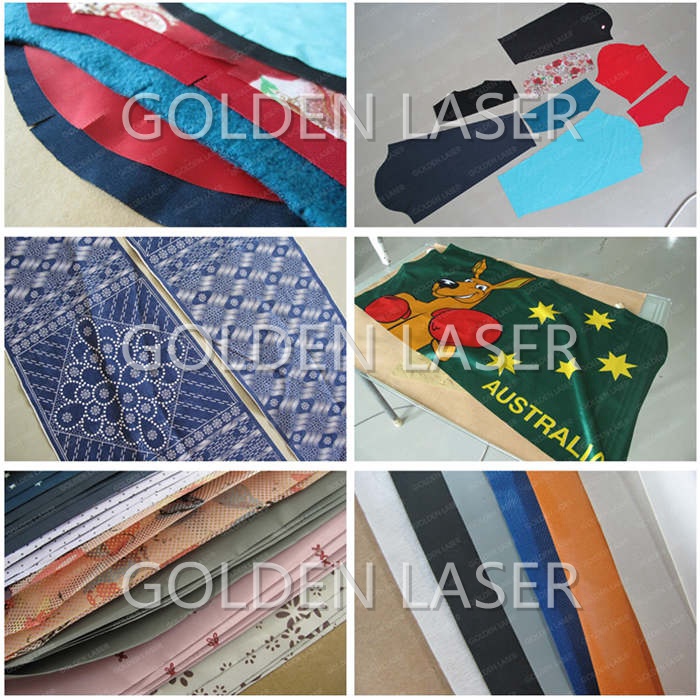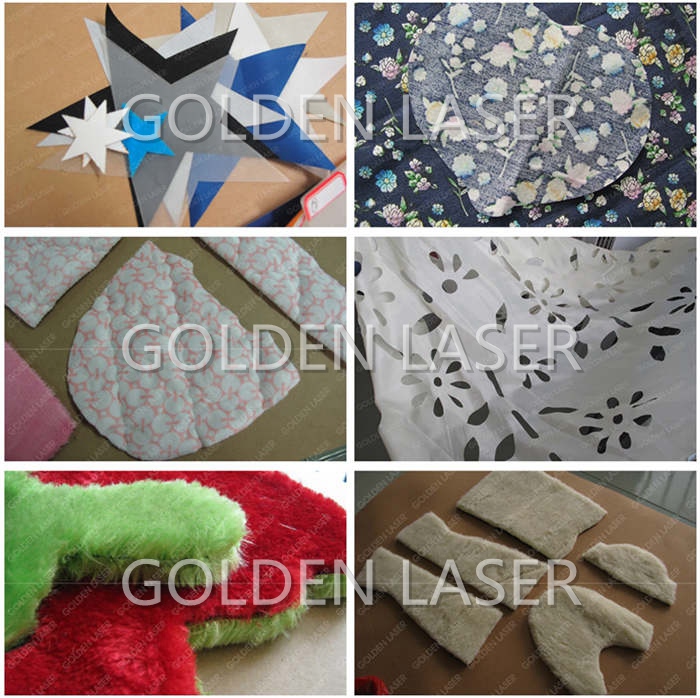 제품 디렉토리 : CO2 레이저 커팅 머신 > 직물 레이저 절단기