Polyester Fabric Laser Cutter for Printed Pattern
Vision laser cutter helps you to cut the pieces directly from sublimated fabric roll
Auto Feeding / Flying Scanning / Automatic recognition / High Speed Cutting
Dye-sublimation printing onto fabrics and textiles is very popular for producing sportswear, polo shirts, teamwear, cycling apparel, hockey jerseys, banners and flags. The only issue remaining is how to cut out the printed parts. Manually cutting each part is too slow, inconsistent and labor intensive.
Laser cutter with vision system, automates the process of cutting dye sublimation printed panels of fabric or textile quickly and accurately, automatically compensating for any distortions or stretches that occur in unstable or stretchy textiles. Material is automatically unrolled and transported onto the laser cutting machine using conveyor system.
Laser cutter is particularly suitable for contour cutting sublimated fabrics because of its ability to cut stretchy and easily distorted materials - exactly the type that you get with athletic clothing (e.g. sportswear, running uniforms, team jerseys, cycling apparel, swimwear, etc.)

Our laser cutters make light work of these types of textiles, making sure that you always get an accurate, perfect cut. As laser cutting is non-contact, there is no drag on the material and no blades to change. Once cut, synthetic textiles gain a sealed edge. Meaning that they will not fray, this is another excellent advantage over traditional textile cutting methods.
Twos Modes of Vision Laser System
(1) Contour extraction and cutting
Advantage: software can directly scan and extract sublimation printed graphics contour, no need original drawing.
Suitable for cutting printed graphics with smooth contour.
(2) Registration marks positioning and cutting
Advantage: No limitation on the graphics shape / Available to cutting embedded graphics / Higher precision / Automatically compensating for any distortions or stretches that occur in unstable or stretchy textiles.
Polyester Fabric Laser Cutter for Printed Pattern CJGV-160130LD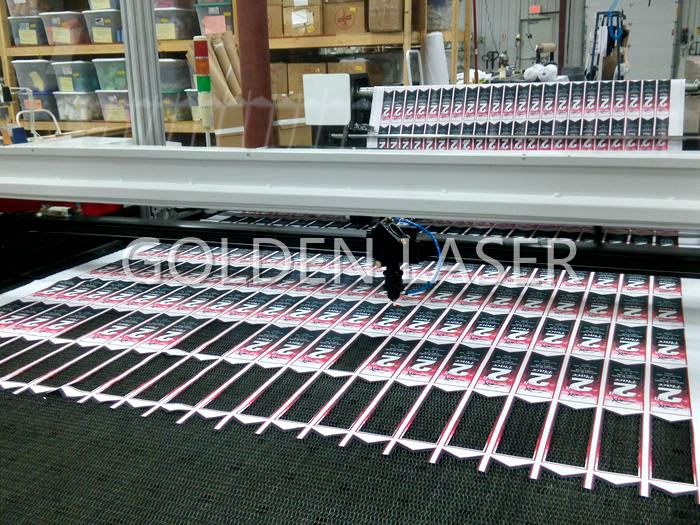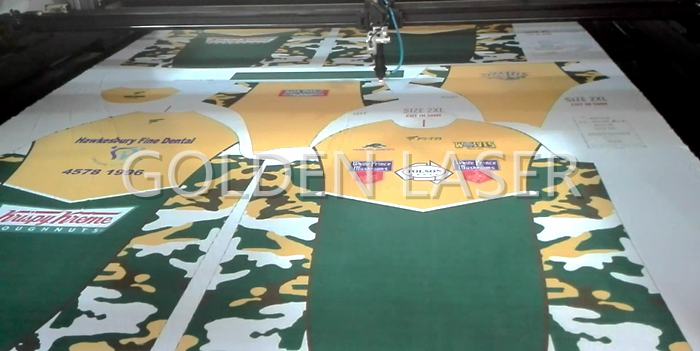 Advantages of Polyester Fabric Laser Cutter for Printed Pattern

● Versatile. Cut a variety of materials, like polyester, cotton, microfiber, lycra, polymide, PVC, vinyl, etc.
● Automated production process with conveyor and auto-feeder.
● Faster. Laser cut speed reaches up to 600mm/s.
● Clean. Non-contact laser process. No need to glue paper onto textile, avoiding manual pollution during scissors cutting process.
● Precise. High precision, smooth cutting edge, no fraying, no need to rework on cutting edges.
● Flexible. Cutting different shapes simultaneously.
● Save time, save materials, and save labor cost.
Laser Cutter Applicable industries
Sportswear, cycling apparel, hockey jersey, team wear, motor sports wear

Swimwear, polo shirts, T-shirts

Banners, flags, vinyl, polyester and advertising soft signage

Arabesquitic bags, suitcase, sofa, upholstery, soft toy, sports shoes

Fabric with repetitive visual motifs

Stripes, plaids, suits, shirts, dresses

Digital printing textile, dye-sublimation fabrics
Polyester Fabric Laser Cutter for Printed Pattern Features
1. Vision System is equipped with high quality camera, LED lamp, control cabinet and encoder.
1.1 Vision System has four functions:
1.1.1 Automatic contour extraction;
1.1.2 Printed Marks positioning cutting;
1.1.3 Stripes and Plaids matching;
1.1.4 Irregular fabric marker making
2. Machine body adopts full steel welding structure. High reliability.
3. High cutting speed, high efficiency.
4. Top brand motion guide rail and belt. High performance.
5. Conveyor vacuum pressure working platform ensures cutting material flat adsorption
6. Top and bottom exhausting systems
Laser Cutter Technical Parameters
Model No.

CJGV-160130LD

CJGV-160200LD

CJGV-180100LD

CJGV-180200LD

CJGV-180140LD

Working Area

1600mm×1300mm

(63"×51")

1600mm×2000mm

(63"×78")

1800mm×1000mm

(70"×39")

1800mm×1200mm

(70"×47")

1800mm×1400mm

(70"×55")

Laser Type

CO2 glass laser / CO2 RF metal laser

Laser Power

150W

Working Table

Conveyor working table

Working Speed

0-600 mm/s

Positioning Accuracy

±0.1mm

Power Supply

AC220V±5% 50/60Hz

Format Supported

AI, BMP, PLT, DXF, DST.
Polyester Fabric Laser Cutter for Printed Pattern Samples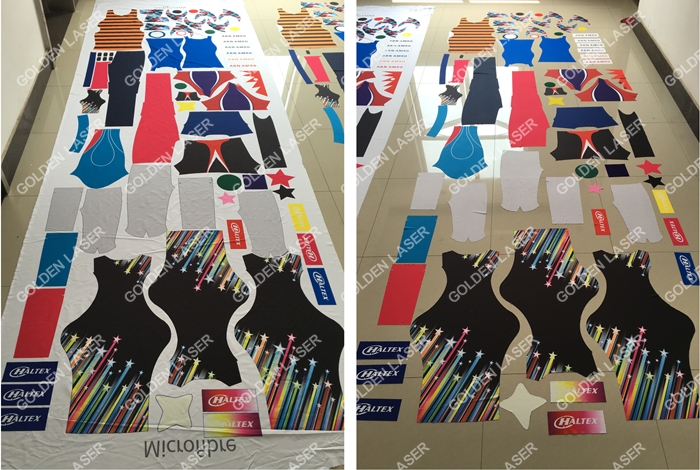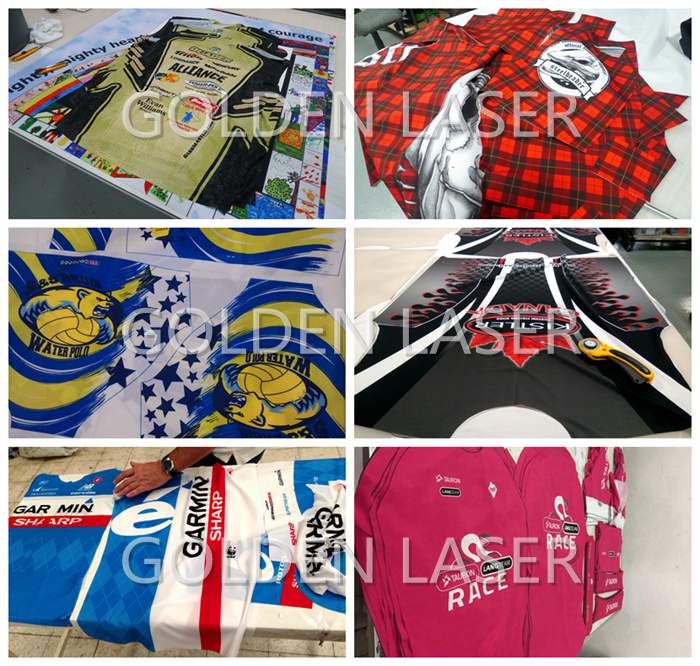 제품 디렉토리 : 비전 레이저 절단기 > 인쇄 된 직물 레이저 절단기